10/12/2022
Downdraft hobs will gain even more ground in 2023
It is no longer a question of whether downdraft hobs – aspiration hobs, hood-in hobs – these are just some of the names – are gaining traction with consumers. Downdraft hobs, or induction hobs with an integrated cooker hood, have become "the new black" and something in high demand with consumers. This trend will only grow even more in 2023.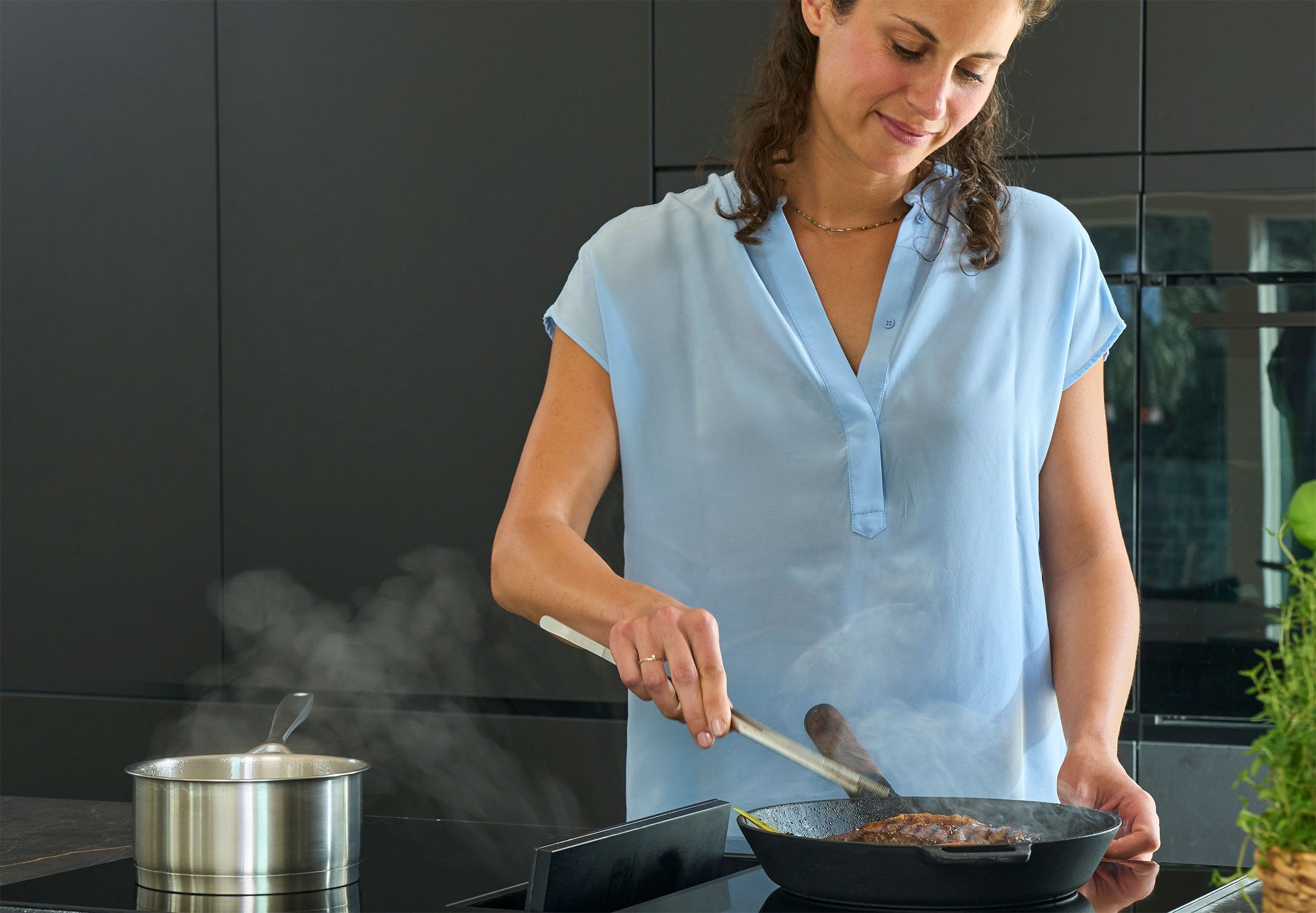 Before, it was more about being a first mover with downdraft hobs, whereas 2023 is about standing out in a growing market. This is what EICO's Phantom series does, which not only stands out in terms of elegance and aesthetics but particularly also when it comes to technology and know-how. It is a Danish design focused on quality, performance, and functional design.
Phantom Shift takes the lead
"With Phantom Shift, we are at the forefront with a well-thought-out product that beats out the competition on several parameters. With Phantom Shift, customers get the highest air velocity of 7,0 m/s with an onboard motor. Phantom Shift has a good user interface with the lowest sound level of the market at only 58dB(A) at the highest normal power. Phantom Shift is, of course, also made in a timeless design that will embellish Scandinavian kitchens in years to come" says Niels Poulsen, CSO at EICO.
Danish design with top-notch specifications and exquisite details
"If we look at the Phantom series – including Phantom Shift – it consists of hob-technology from German EGO and a motor from German EBM-Papst. Ebmpapst supplies, among other things, high-end motors to other well-known quality brands in the market. The same can be said about EGO, which is responsible for the electronics of the cooking section. In other words, we have chosen the best of the best, when it comes to German quality and know-how - which also provides the Phantom series with high operational reliability. Beautiful black glass is produced in France. Here, quality is once again a priority, and we have cooperated with a manufacturer who also supplies several other quality brands in the market. The products are all manufactured in Western Europe by the market leaders within the industry" says Niels Poulsen.
The small details count
One might be tempted to believe that with such focus on performance and noise level, there has been no attention to detail. But here EICO also shows the ability to also add small details that makes every day a little more exquisite. White display lights have been added in contrast to the red lights many may know from similar products on the market. The white display lights provide a sleek and stylish look, which matches the light in the oven's display.
Multi-purpose products have come to stay
"One of the things, that we have seen on fairs this is spring – which the consumers will see a lot more of the coming years – is products, which make everyday life easier and more practical for all of us – and preferably with several purposes gathered in one product. Phantom Shift is a great example of this" states Niels Poulsen.
Less is more - focus on clean lines
With more than two years in the wake of the pandemic, the priorities of everyday life have been scrutinised by many. These thought processes have also had an impact on how designers see the future.
"We will be seeing muted tones and a clear design scaled down to only what is necessary – where the design will be characterised by clean lines and simple shapes. Consumers will see more than in 2023" concludes Niels Poulsen.
EICO has the widest selection in the market when it comes to downdraft hobs. Besides our Phantom series we also have several NikolaTesla models from Elica and the Galileo model from Faber in our selection.